Buying Information
---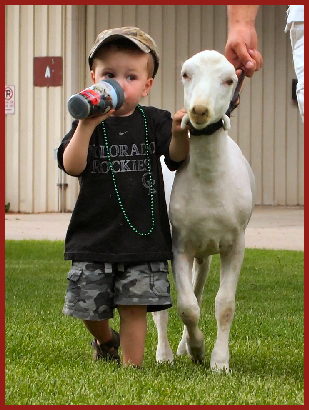 It's an exciting time when you are considering adding a new animal to your herd. We want you to be pleased with the experience and your new addition. This is why we are committed to breeding beautiful, productive, healthy animals of high genetic quality.
Our Breeding Philosophy
At Rancho-Snowfall every mating is hand-picked from the most successful modern and classic genetics to improve type, production, and consistency. Our small herd size allows us to put an extreme degree of planning into each breeding, often starting years before the sales list you are viewing. We use artificial insemination extensively and our semen collection spans several decades. This allows us the opportunity to bring back the lines that have already proven to be prepotent and also use the latest and most modern style animals. This combination creates animals that are uniquely Rancho-Snowfall.
Selecting A Rancho-Snowfall Kid
Our customers are always invited to make an appointment to come by the farm and see our animals in person. Yet, when a farm-visit is not possible, we are happy to consult you as to which animals or lines would work best for your needs. If at any time our reservations are full, or we do not feel we have the animal that meets your specific needs, we will not hesitate in putting you in contact with another reputable breeder, who may be able to fill your order.
Reserving A Rancho-Snowfall Kid
We start taking reservations on the following years kid crop usually in late summer/early fall, when we finalize our breeding plans. However, you are welcome to contact us at anytime to inquire about our planned matings and prices. We encourage our customers to get their orders in as early as possible, since we are a small herd and reservations fill up quickly.
To order a kid from your mating of choice, a $50 deposit is required. Although most kids will be for sale, we do reserve the right to retain any kid born or not offer a kid we feel is not of quality for sale. In either of these cases, your deposit will be refunded promptly. However, deposits will not be refunded on cancelled orders. Once notified of the birth of your ordered kid, you will be expected to remit the remaining purchase price within 10 days, and all other costs prior to shipment. We only offer a select few buck kids, from our top does, to be sold on a pre-reserved basis. We reserve the right to receive 20 straws of semen, at the per-straw cost of collection, on any buck we sell.
Looking For Mature Stock?
Please contact us if you would like your name on the milking doe waiting list, or are interested in buying a particular animal in our herd. We fill requests based on your specifications and in the same order that they are received. Prices start at $300 and will be determined by the evaluated quality (Family milker, 4-H Show or Open Show) of the doe after she freshens. These animals usually sell very quickly, so we encourage you to contact us for more information on what mature stock may be coming available.
Shipping Your Kid
We always encourage buyers to come to the farm to pick up their new kid, and while here see the animals and our operation. But when picking up your animal in person is not possible, we are happy to help arrange shipment. We have shipped stock, by both air and ground, all over North America and can walk you through the process. Affordable animal transportation is often available from our area to the ADGA National Show in the summer, or the ADGA National Convention in the fall. Kids are shipped around four weeks of age. A small delivery fee is charged for transportation to Denver International Airport. Shipping costs are not included in posted prices. Shipping crates, health certificates, and all other transportation costs are the responsibility of the buyer. Please Note all reserved animals must picked up or shipped by the initially agreed upon date or payment will not be refunded and the animal will be once again offered for sale.
Discounts
Discounts are offered on high quality 4-H and FFA project animals, for multiple purchases, and to our loyal customers.
---
Contact Us
★ Dr. James H.E. Haught, DVM ★
970-420-4133
haughtdvm@gmail.com
2395 CR 142, Elizabeth, CO 80107