Current LaMancha, Alpine & Saanen Sires
---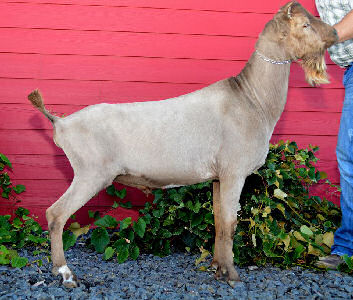 | | | |
| --- | --- | --- |
| Natural Sire-Stud Service Available-Breeding Fee $75 | | |
| *B Rancho-Snowfall Tach Synergy | Purebred LaMancha | 03/07/13 |
| | | |
---
Sire: +*B SG Kastdemur's Tach Lach
Sire of the 2013 Naitonal Champion
S. Sire: +*B SGCH Kastdemur's Sting
S. Dam: SGCH Kastdemur's Evian 2*M 5-06 EX 94 EEEE
2008 and 2009 National Champion
Dam: Heart Mt Sumaya 5*M 2-02 EX 90 EEEV
D. Sire: *B Heart Mt Chattahoochee
D. Dam: Heart Mt. Samara 4*M
2009 3rd Place Intermediate Kid Nationals
---
Dam: Heart Mt Sumaya 5*M 2-02 90 EEEV


Pat. Granddam: SGCH Kastdemur's Evian 2*M 94EEEE
2008 + 2009 National Champion
Photos courtesy of Kastdemur's Dairy Goats
★ To Top ★
---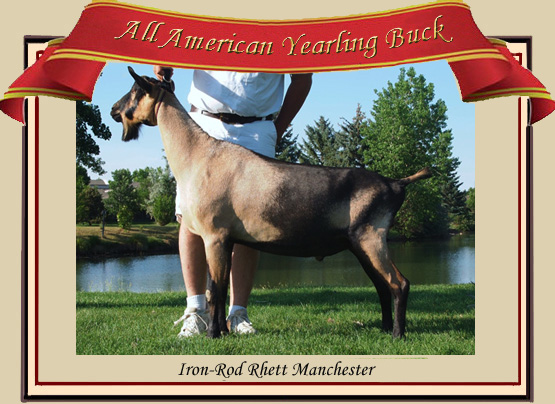 | | | |
| --- | --- | --- |
| Natural Sire - Stud Service Available- Breeding fee $100.00 | | |
| CH Iron-Rod Rhett Manchester (AI) | Purebred French Alpine | April 2011 |
---
Sire: +*B Willow Run Ahren Rhett EX 90EEE
S. Sire: B Willow Run Caesar Ahren
S. Dam: SGCH Willow Run Armond Rishona 3*M EX 92EEEE
2000, 2002, 2003 & 2004 ADGA National Champion
Dam: CH Iron-Rod Etienne Mandalay EX 92EEEE
2nd Place 4yr old 2008 ADGA National Show
D. Sire: B CH QuáAppelle V Etienne LA 90VEE
D. Dam: H Iron-Rod SPF Morocco
---
1-2 87 VVV
3-5 88 VVE
4 time Grand Champion
1 time Reserve Champion
Manchester is our new French buck we purchased in consortium with Harmondy Alpines. This buck is long and level, with a ton of style. We love the strength and elegance of the Rhett daughters, and the opportunity to bring in the four time national champion Rishona's genetics to our herd.
Manchester´s Dam, Mandalay, is very sharp and angular, with the typical style and presence you would expect from and Iron-Rod doe. She has preformed well on the national stage placing in the top of her class several times. Mandalay´s sire, Etienne, is a littermate to the famous Ember, who has sired several national champions and class winners in the last several years.
Manchester has 3 daughters in the herd: Pellegrini, Truly and Lucile. Manchester has been collected by Cam Faircloth and semen is available for $25/straw.
'

CH Iron-Rod Etienne Mandalay EX 92EEEE (Dam)
Photo Courtesy of Leslie and Larry Sidwell.

GCH Willow Run Armond Rishona 3*M EX 92EEEE (Paternal Granddam)
2000, 2002, 2003 & 2004 ADGA National Champion
★ To Top ★
---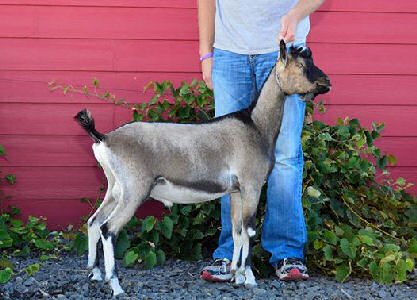 | | | |
| --- | --- | --- |
| Natural Sire - Stud Service Available- Breeding fee $75.00 | | |
| Rancho-Snowfall Bourne Identity | French Alpine | 3-09-2014 |
---
---
| | |
| --- | --- |
| Dam: Sand-Dance SND Berlin | |
★ To Top ★
---
| | | |
| --- | --- | --- |
| Natural Sire - Stud Service Available- Breeding fee $75.00 | | |
| Rancho-Snowfall RWHS Hollister | American Alpine | 3-22-2014 |
---
Sire: *B Redwood Hills Tribute Sailor
S. Sire: *B Tempo Aquila Fortune Tribute
Son of the 2006 National Champion
S. Dam:SGCH Redwood Hills F Seabastinne 11*M EX93
2 X's Top Ten Milk Production
Dam: Hoach's SMXR History
D. Sire:++*B Shining Moon X-Rated
D. Dam: GCH Hoach's RHRS Heredity 2*M
---
| | | |
| --- | --- | --- |
| | Show Placings | |
Dam: Hoach's SMXR History
★ To Top ★
---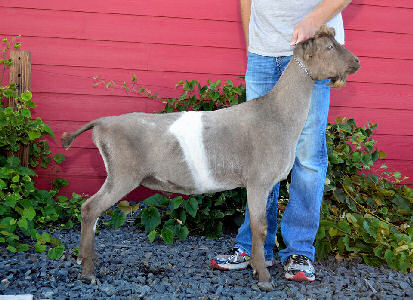 Natural Sire
*B Kastdemur's Avena Ethos

Purebred LaMancha

March 2014
---
Sire: ++*B Becca's Hemingway

S. Sire:

++*B One*Oak*Hill Medicine Tumult

S. Dam:

SGCH Me's Ranch Dutch Hesba
Dam: GCH Kastdemur's Avena 3*M
2012 ADGA National Champion

D. Sire:

+*B GCH Kastdemur's Watch Yourself

D. Dam:

SGCH Kastdemur's Evian 2*M EX 94

2008 and 2009 ADGA National Champion
*B Kastdemur's Ethos (pending)
Ethos' dam: GCH Kastdemur's Avena 3*M
2012 ADGA National Champion

Photo courtesy of Kastdemur's Dairy Goats
★ To Top ★
---
Dr. James H.E. Haught, DVM
★
62400 E 2ND Lane
★
Byers, CO 80103
★
970-420-4133
★
haughtdvm@gmail.com
updated 4
5/2013