Sr. Alpine Does
---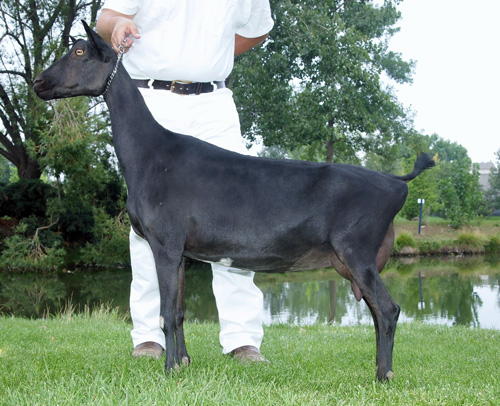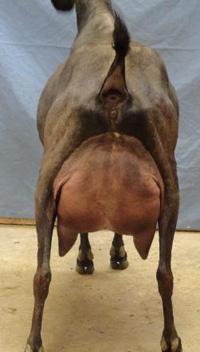 | | | |
| --- | --- | --- |
| Sand-Dance SND Berlin 2*M | French Alpine | 01/26/09 |
---
Sire: *B Sand-Dance WRS Night Deposit
S. Sire: ++*B GCH Willow-Run Rico Splash
S. Dam: GCH Sand-Dance Night Fever 8*M
Dam: GCH Sand-Dance HLL Beyonce 1*M
D. Sire: ++*B GCH Hoach´s SSS Lyric Longevity
D. Dam: CH Sand-Dance SDT Bon Bon
---
3-02 90 EEEE
5-07 87 VVVV
8-07 89 EEEV
DHIA
2-0 237 2050 66 56
DNA on File
Alpha S1 Casein
E/E
Berlin is a striking jet black doe with a long elegant neck and level top line. This French Alpine has a beautiful mammary system that is both stylish and functional, with easy to milk teats, soft texture, and snug attachments. We can't wait to get Berlin out in the show ring this coming spring.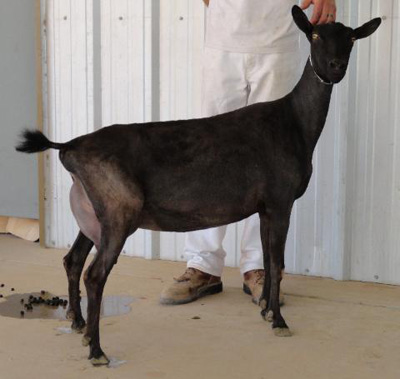 Berlin - 2yrs old
★ To Top ★
---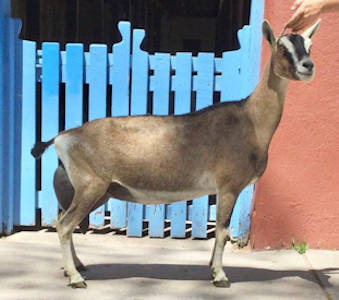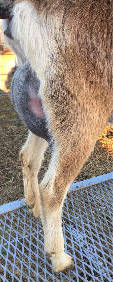 | | | |
| --- | --- | --- |
| Loughlin's Armand Fame AI 1*M | French Alpine | 04-06-14 |
---
Sire: ++*B Willow Run LA Armand
S. Sire: ++*B Hoach's Lyric Landmark
S. Dam: SGCH Maple-Glen Classic's Angela 1*M EX 92
Dam: Loughlin's Fiona
D. Sire:*B Willow Run Rev. At Last VG89
D. Dam: Loughlin's Remus Floria
---
2-04 85 +VAV

3-04 88 EVVV

Show Placings

1X BOB

F/F

Fame is truly shaping up to be everything we hope for with a balanced good production, sound conformation and consistently beautiful progeny. Fame sets herself apart for her extremely high and wide rear udder attachment. We are so grateful to Loughln's for sharing this special doe.

Fame - 2014 ADGA National Show


Dam: Loughlin's Fiona


Pat. Sister: SGCH Willow Run Armand Rishona 2*M EX 92
2000, 2002, 2003 and 2004 Nat'l Grand Champion
★ To Top ★
---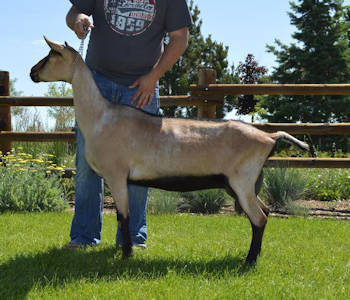 | | | |
| --- | --- | --- |
| Rancho-Snowfall Heartbreaker 4*M | American Alpine | 03-22-14 |
---
Sire: +*B SG Redwood Hills Tribute Sailor
S. Sire: *B Tempo Aquila Fortune Tribute
Son of the 2006 National Champion
S. Dam:SGCH Redwood Hills F Seabastinne 11*M EX93
2 X's Top Ten Milk Production
Dam: Hoach's SMXR History
D. Sire: ++*B Shining Moon X-Rated
D. Dam: GCH Hoach's RHRS Heredity 2*M
---
2-04 87 VVVV

Show Placings

Heartbreaker is hands down the tallest and longest Alpine here. Very much like her mother, she has a very well attached mammary with ideal teat size, shape and placement. Heartbreaker missed this show season after having abdominal surgery and a slow recovery. We are ecstatic to have her confirmed bred to *B Redwood Hills Rima Rendezvous.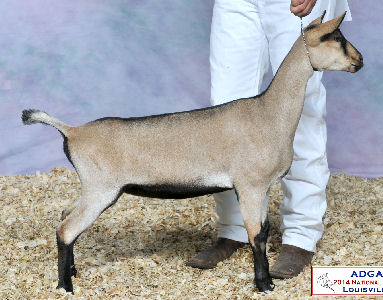 Heartbreaker - 2014 - ADGA National Show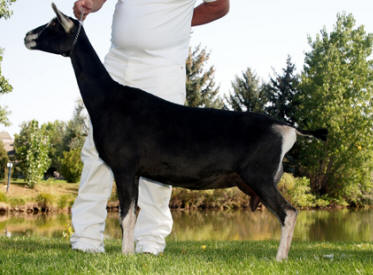 Dam: Hoach's SMXR History
★ To Top ★
---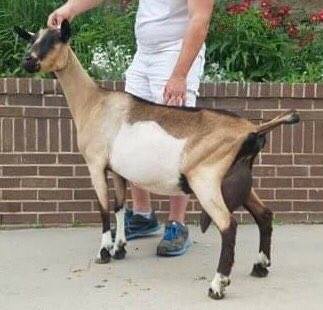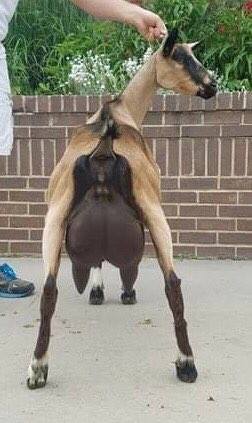 | | | |
| --- | --- | --- |
| SG Rancho-Snowfall Flambeaux 8*M | American Alpine | 04-16-15 |
---
---
1-03 86 VVVV

2-04 86 VVVV

Show Placings

E/F
★ To Top ★
---
| | | |
| --- | --- | --- |
| L & S Alpines Tiger Lily | PurebredAlpine | 03-18-15 |
---
Sire: *B Windrush Farms Blaze Sassafras
S. Sire: *B Angel-Prairie Embr Fancy Blaze
S. Dam: GCH Windrush Farms IRS Corriander 5*M EX 92
Dam: GCH Pearl Valley Flight Tigress 4*M
D. Sire: Sand Dance SDS Night Flight
D. Dam: GCH Pearl Valley MMF Traza 3*M EX 90
---
| | | |
| --- | --- | --- |
| | Show Placings | Lily joined the herd late in the summer and was an obvious fit when Shari told me she was available. We had admired both her granddams for many years, and then watched her dam Tigress sort herself to 4th place at Nationals this year. Lily is going to take a few years to fill out but has all the right pieces to the package. |
★ To Top ★
---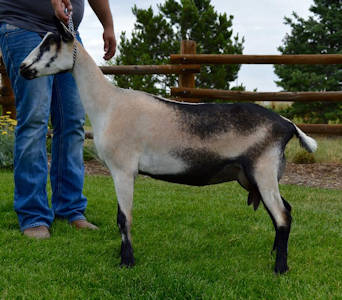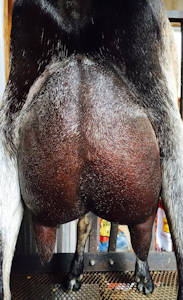 | | | |
| --- | --- | --- |
| Rancho-Snowfall Tiffany | French Alpine | 06-10-15 |
---
Sire: *B Rancho-Snowfall BourneIdentity 88 VEV
S. Sire: ++*B Hoach's Lyric Landmark
S. Dam: Sand Dance SND Berlin 2*M 87 VVV
Dam: SGCH Winsong Tandra's Tara 2*M 90 VEEE
D. Sire: +*B SGCH Aslan's-Own Diamond's Alex 90 VEE
D. Dam: Star-E Top Brass Tandra 1*M
1-02 86 +V+V

Show Placings

E/F
★ To Top ★
---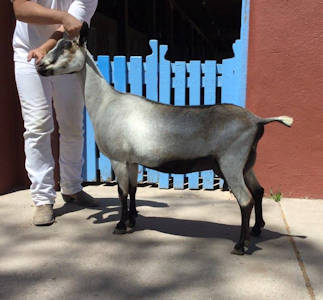 | | | |
| --- | --- | --- |
| Rancho-Snowfall ST Palisade | American Alpine | 03/21/15 |
---
Sire: ++*B SGCH Shahena'ko Sumo Tierro
S. Sire: ++*B SG Shahena'ko W Sumo
S. Dam: GCH Shahena'ko STtierra 3*M EX 91
Dam: Mamm-Key Mr Bo Poet's Pixie
D. Sire: *B Redwood-Hills Mr. Bo Jangles
D. Dam: SGCH Mamm-Key Cameo's Poet 5*M EX 91
---
YSA: VVV - V

2-05 87 VVVV

Show Placings
★ To Top ★
---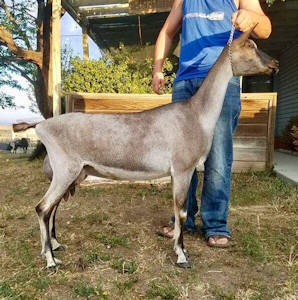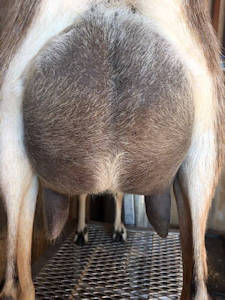 | | | |
| --- | --- | --- |
| Rancho-Snowfall Jim Bordeaux | French Alpine | 03/22/16 |
---
Sire: ++B SG Goodwoods James VG 86
S. Sire: ++*B New Era's Cappacino
S. Dam: CH Goodwoods Ranchman's Jamieson EX 90
Dam: Sand Dance SND Berlin 2*M VG 87
D. Sire: *B Sand Dance WRS Night Deposit
D. Dam: GCH Sand Dance HLL Beyonce' 1*M
---
YSA: +++ - +

1-05 85 V++V

Show Placings

E/F
★ To Top ★
---
Dr. James H.E. Haught, DVM
★ 2395 CR 142
★
Elizabeth, CO 80107
★
970-420-4133
★
haughtdvm@gmail.com
updated 01/18/2018